Wallpaper Removal in Clarksville, MD 21029
When it comes to speedy, thorough wallpaper removal in Clarksville, Maryland, no one beats North College Park Painting LLC's experienced professionals. If you have ever attempted removing wallpaper in your home or business on your own, you know that it is a tedious and labor-intensive task. Now, this is a job for the professionals! We've been in the painting industry for over 20 years and can handle any wallpaper removal project. Simply call (301) 970-9738 for a free quote!
---
Call for a FREE Quote
---
North College Park Painting LLC's Clarksville Wallpaper Removal Process
North College Park Painting LLC will carefully and thoroughly remove the wallpaper as well as any remaining adhesive. Any glue that is not fully removed can seep through a fresh coat of paint, which will reduce the quality of the final appearance. North College Park Painting LLC's wallpaper removal technicians will properly prepare all surfaces, filling in any imperfections before priming and painting. After the application of primer, North College Park Painting LLC will make your walls look new again with a fresh coat of paint.
Satisfaction Guaranteed for Wallpaper Removal in Clarksville
North College Park Painting LLC guarantees that you will be satisfied with wallpaper removal in your Clarksville home. The job will be done to your specification and we go the extra mile to make sure you are happy. The wallpaper removal project isn't complete until you say it is! Call (301) 970-9738 to get started.
Clarksville Wallpaper Removal Contractors from North College Park Painting LLC You Can Trust
North College Park Painting LLC is a leading provider of wallpaper removal in Clarksville. Our expert wallpaper contractors have years of experience and can get the job done right, quickly and efficiently, saving you hours, if not days, of tedious labor. When you are tired of that old wallpaper and ready for a change, give us a call. We will remove that outdated wallpaper quickly and easily and clean up the mess too!
WHAT CUSTOMERS ARE SAYING: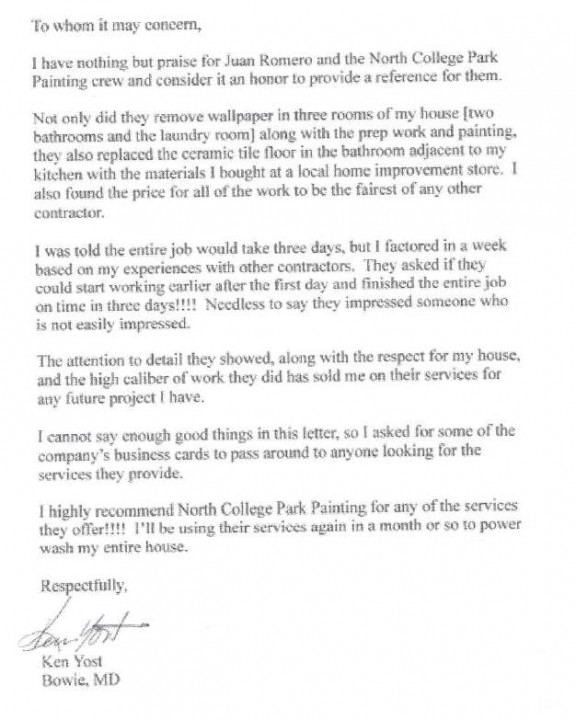 Ken Yost in Bowie, MD
---
5★★★★★ - "Two weeks ago you took the wallpaper off my kitchen wall, cleaned the walls and painted the whole kitchen. I love it. I had you paint it yellow and it makes me feel happy when I walk into the room. This week, October 10, 11 and 12 you have washed down and painted the three sides of aluminum siding on my end townhouse. It looks beautiful. Once neighbor called me and said it made it look brand new. Not onlt that, I would like to express my appreciation of how meat and clean everything looked after you completed the project. Also, I appreciate your fair price. Thank you so much. I am planning to do the upstairs bathroom next and will be calling you."
Dorothy Nevitt, Wallpaper Removal and Interior Painting in Crofton, MD
2012-12-30
---
5★★★★★ - "On-time, outstanding work, and very professional! I do contracts for DoD and one was a paint and sign contract for a well-known base. I know from experience that the price is fair and reasonable and the work is great! I will call them when we are ready for more painting."
Wes in Laurel, MD
2020-05-15
---
5★★★★★ - "I found North College Park Painting through a google search for deck stainers near me. From reading the reviews and viewing the work, I decided to reach out for an estimate. Mr. Romero was very responsive and came out to give me an estimate for the work that I was looking to get done. I had my gutters cleaned, house and deck power washed and my wrap around porch painted and deck sealed. He and his crew were extremely professional and did an awesome job within two days quote. I am extremely pleased and will use his company again for upcoming work that I plan to have done inside my house."
Danika M. in District Heights, MD
2019-05-16
---
5★★★★★ - "Dear Juan, I am writing to thank you for the great interior paint job that you did at my home. I appreciate your professionalism, timeliness, and pleasant attitude. You and your team did a superior job! I will certainly contact you for my next paint project! Thanks again!"
C. Sanders, Interior Painting in Hyattsville, MD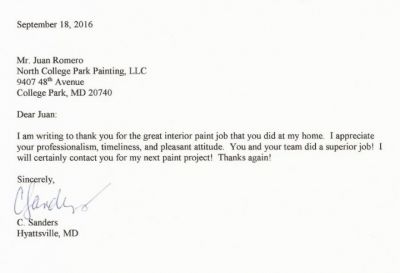 ---
5★★★★★ - "Wall paper removal, wall and ceiling repair, painted entire interior (walls, ceiling, trim, interior and exterior doors, bathroom fixture installation (sink, toilet, replaced caulking), hard wood floor refinishing (over 2000 sq ft house), carpet installation in the den, removal of an exterior roof TV antenna, a small landscaping job, and some glass window pane replacement.
Wow, this guy does it all and he does it on time, on budget. I don't know how I would have gotten through this estate house renovation with out Juan and his crew. I kept giving him tasks to accomplish and he kept knocking them out and surprising me with his workmanship and customer service. Seriously, its difficult to find a good contractor and this one is now my go-to guy for everything."
Homeowner, Painting in Silver Spring, MD
---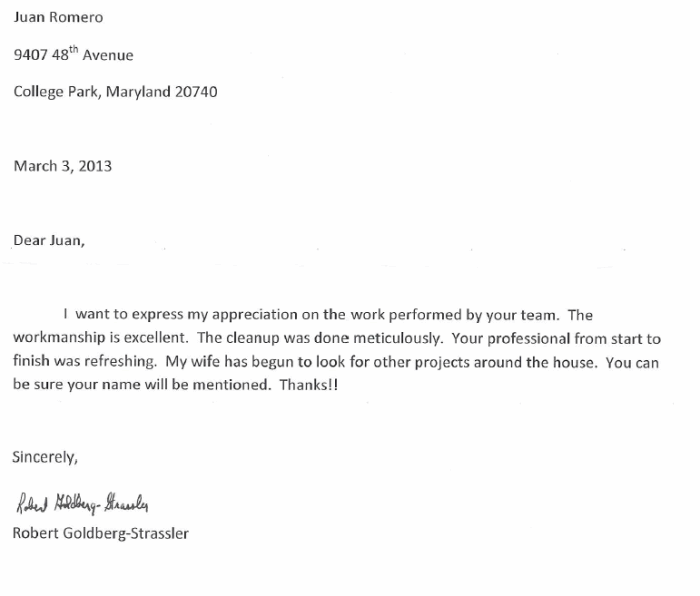 Robert Goldberg-Strassler
---

Patricia T. Frye
---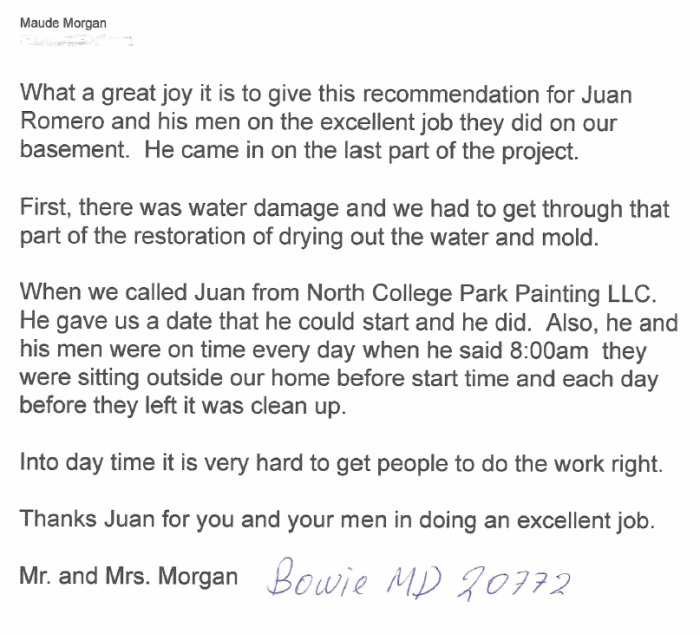 Mr. and Mrs. Morgan in Bowie, MD
---
5★★★★★ - "I would highly recommend North College Park Painting, LLC. Juan Romero and his team are very courteous and professional. They did an outstanding job in painting our house, doing some minor carpentry, power-washing and staining our deck and other tasks. In addition, they were very flexible to make changes to the job as it progressed. They arrived on time and cleaned up at the end of the day. Juan is a pleasure to deal with and I would recommend him for excellent work."
Spiros Droggitis, Pressure Washing and House Painting
2012-12-30
---
5★★★★★ - "Juan Romero (North College Park Painting) recently renovated our basement and did upgrades throughout main and upper levels. He and his team were extremely professional, diligent and dedicated to doing great work. He was on time every day and always cleaned up. They did great work and I have no hesitation using him again."
Conor White
2012-12-30
---
5★★★★★ - "It is with pleasure that I provide North College Park Painting a glowing reference. Juan and his team restored my finished basement to better than new condition after a renter of mine trashed it. They replced doors, repaired walls, constructed an access door to my utilities, and painted the entire basement. Their work ethic is superb and Juan is a real pleasure to work with. Each day they arrived on time, and each night left the premises clean and orderly for the hext day. The quality of their work is exceptional and I will personally use them in the future for anything else I might need. I confidently recomment North College Park Painting as a solid and reliable contractor."
Paulette, Basement Restoration and Painting
2012-12-30
---
5★★★★★ - "Thank you for the great job you did at my home recently. The bedrooms and bathroom look fresh and new and beautiful. The basement looks amazing. It's so nice to find someone who is meticulous and careful and takes pride in his work. I appreciated the fact that you and your team showed up on time every day and worked diligently until the job was done. You cleaned up as you went and never left a mess at the end of the day. Please don't hesitate to use me as a reference. Thank you again for a job well done. I look forward to working with you in the years to come."
Lisa Parzow, Interior House Painting in Potomac, MD
2012-12-30
---
5★★★★★ - "Mr. Juan Jose Romero has worked on several projects at my house ranging from building a stair case (steps) from our deck to patio; removing our deck and paint work. Mr. Romero has always been punctual, courteous and very professional. His work is of very high quality and his prices are improssible to beat. He provides detailed estimated and explains the work before he starts and arrives on time to start and finishes on time. I have been very happy with the quality of Mr. Romero's work and would definitely recommend him to my friends."
Fawad, Deck Removal and Painting in Chantilly, VA
2012-12-30
---
5★★★★★ - "I want to thank you and your men for the excellent job that they did painting my home and isntalling the front door. The wood that you replaced looks great and one of my neighbor told me that the workmanship was excellent. My wife and I are very happy with how well everything looks. If we ever need any more work done we will be sure to call you. I highly recommend you to anyone that wants quality work done at a reasonable price. Thank you again for the pride you take in your work."
2012-12-30
---
5★★★★★ - "I am writing you this letter to let you know that I am very satisfied with the job you and your team did on the deck at my house. The staircase from the deck to basement looks perfect. You can also use this letter as a recommendation for future customers. I would recommend your services to anyone I know."
Monir Rastegar
2012-12-30
---
5★★★★★ - "Many thanks for the very excellent job you did on my house's painting and trim repair. The work was timely, well done in accordance with project specifications, and the clean up was also very good. The project was completed at a fair price. Overall, I am very pleased and would be delighted to be a reference for future clients. Thank you & Happy Holidays."
Lawrence
2012-12-30
---
Call for FREE Wallpaper Removal Quote
---
Wallpaper Removal available in the following Clarksville, MD zip codes: